Meet Our Donors
From One Generation to Another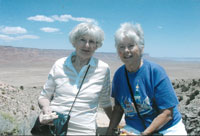 Ninety-year old Rosemary McCarthy, who lives in Orange County, California, loves the Catholic faith. "When I think of all that one goes through in life, my faith is most important," she said. Faith is also part of Rosemary's family history, and so is Catholic Extension. She grew up in Upper Sandusky, Ohio, and remembers reading Extension magazine at her grandparents' house when she was a little girl. "My grandfather had a cabinet where he kept books and magazines, and I saw Extension magazine there," she said. "I was so fascinated by that cabinet, and I remember the pictures in the magazine of people caring for other people."
Rosemary and her grandfather shared a common desire to pore over the magazine – she had a youthful curiosity, and he had converted to Catholicism as an adult. "He was interested in learning as much about the Catholic faith as he could," she recalled.
After graduating from high school, Rosemary received her Bachelor of Science degree in nursing. Then, in her twenties, looking for adventure, she moved to California. She had a long career in nursing.
Through it all, the seeds of faith that were nurtured by her grandparents and parents continued to flourish and grow, as did her relationship with Catholic Extension. "Catholic Extension is a family tradition," she said. "It ties me to my ancestors. I started giving to Catholic Extension a long time ago."
In addition to making annual gifts, Rosemary took the first step in estate planning in 1992 by establishing a charitable gift annuity with Catholic Extension. Today, she is a member of the Legacy Club, having named Catholic Extension as a beneficiary of her trust.
Rosemary believes deeply in the mission of Catholic Extension and is particularly interested in supporting seminarians. She is glad to know that because of her generosity and thoughtful estate planning, young men in poor areas of the country will be able to answer their call to the priesthood.
(Currently, Catholic Extension is helping more than 50 mission dioceses fund the education of approximately 600 seminarians.)
An active 90-year-old, Rosemary still drives and attends Mass every Sunday. "I really hold close to myself the very basic beliefs that make me a Catholic," she said. With the simple act of making an estate gift, Rosemary is helping ensure that these basics are available to all Catholics who yearn to practice their faith – now and for generations to come.