Meet Our Donors
A Donor Shares the Missionary Spirit of Catholic Extension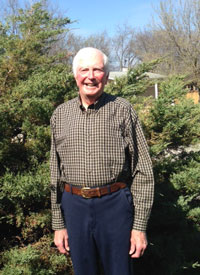 Long-time Catholic Extension donor and Legacy Club member Robert Buckley turned 80 years old on Palm Sunday. Just as Jesus entered into the city of Jerusalem on that holy day, Mr. Buckley has been contemplating entering the gates of heaven himself.
"I have been very fortunate all my life; I have lived my life to the best of my ability," he says. "And I know that when I am called home to heaven, I can't take my worldly possessions with me."
A lifelong Catholic, Robert grew up in humble circumstances as the son of an Aurora, Illinois, fireman and a nurse. From 1962 to 1976, he was co-owner of the Aurora Cycle & Hobby Center, but he sold the store in his 40s and has been retired ever since in Big Rock, Illinois.
Robert first learned of Catholic Extension through Extension magazine. The work of Catholic Extension immediately resonated with him. Earlier in his life, he had considered becoming a missionary himself, but he was concerned that the challenges of that life were too much for him. However, Robert knew he wanted to do something to give back and to serve the needs of others. Catholic Extension was the perfect fit.
He believes strongly in Catholic Extension's mission to assist Catholics living in remote areas, who struggle financially but who are deeply committed to their faith.
"I enjoy supporting efforts to maintain the infrastructure of the Catholic Church across the United States," Robert says.
"Some of our rural parishes in Alaska might need roof repairs or four-wheel drive vehicles to make their rounds. Also, some of our Native American mission churches are the poorest in the country. They need our help and I am happy to help support the efforts to uplift them through Catholic Extension."
In addition, Robert is interested in seminarians. He appreciates Catholic Extension's Seminarian Endowment Challenge Initiative that helps mission dioceses expand their long-term financial capacity to fund seminarian education. "It is so important to have young, dedicated men who want to serve the church for the rest of their lives – they are the future of the Catholic Church. But often their background makes it difficult for them to afford the education. Catholic Extension provides assistance to them, and I enjoy being a part of that."
A writer and poet as well as a lifelong fisherman, Robert enjoys fishing on land he owns in the Arkansas Ozarks as well as traveling to Hawaii, Mexico, Panama, Alaska and all around the United States and Canada. He also loves to camp and for many years was an Explorer Scout leader known for his campfire storytelling. As an adventurer, he is touched by the stories he reads in Extension magazine — of people living on the margins, in the hidden corners of our country, and making the best of their lives under difficult circumstances. His heart is with them.
Robert Buckley is grateful to the staff at Catholic Extension for helping him with his planned giving efforts. "They arranged the whole process and were simply wonderful," he says.