Meet Our Donors
She Volunteered to Help Others and Her Own Life Was Transformed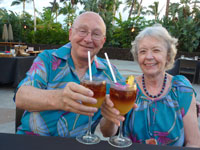 In 1965, when college senior Eleanor Rowe signed up to be an Extension Lay Volunteer, she had no idea what the future held. She simply wanted to give of herself. "I wasn't interested in teaching, nursing or being a secretary, which were the only options back then," said Eleanor, now Eleanor Rowe Gentilini.
But she was interested in turning her faith into action. "This was the mid-'60s, and 'lay apostolate' was a big word then," she said. Young people wanted to get involved and give back.
The Extension Lay Volunteer (ELV) program, which Catholic Extension ran from 1960 to 1971, provided an opportunity to do just that, sending young people to serve in mission dioceses across the country.
"When I look back, I can't believe I signed up to go somewhere far away," said Eleanor. She had grown up in a tiny town in upstate New York and attended college in nearby Albany. Becoming an ELV was a "big step for a small-town girl," she said.
After ELV orientation in Chicago, Eleanor was sent to Rock Springs, Wyoming, then a town of about 10,000. Its residents included many second generation Eastern Europeans who had immigrated to Wyoming to work in the coal mines.
She spent two years in Rock Springs as a parish worker ("jack of all trades"), embedding herself in the community, working closely with the beloved parish priest and marveling at the landscape, from barren sand and sagebrush to the majestic Teton Mountains. "Neither were like the round, green mountains of upstate New York," she said.
During this time, Eleanor also met her husband, Ray, who was from Rock Springs. They married in 1969 and lived all over the world while he served in the U.S. Army.
As an Army wife, Eleanor continued to live out her faith and volunteer in a variety of capacities. "I volunteered to be an ELV, and I've been volunteering ever since," she said with a chuckle.
Whether they were living in Europe, Korea or the Middle East, Eleanor always found a church and got involved. "I'm still involved in the Military Council of Catholic Women," she noted.
Throughout her globetrotting existence, Eleanor also maintained her relationship with Catholic Extension, financially supporting its ministries and, more recently, becoming a member of Catholic Extension's Legacy Club. "People think of mission work as Africa or China. They don't think of the U.S. What impresses me most is that we're taking care of our own, and Catholic Extension has been leading the way for more than a century," she said.
Eleanor also values Catholic Extension's commitment to servicemen and women and their families. "Every year on Catholic Extension's Christmas Wish List there's something for the military, and we like to give to that," she said.
Eleanor and Ray have finally made a permanent home in Colorado, but reflecting on the last 50 years, Eleanor is amazed at her journey. "It's unbelievable," she said. "You just don't know where a path will lead. Being an ELV changed my life."