Meet Our Donors
A Drop in the Ocean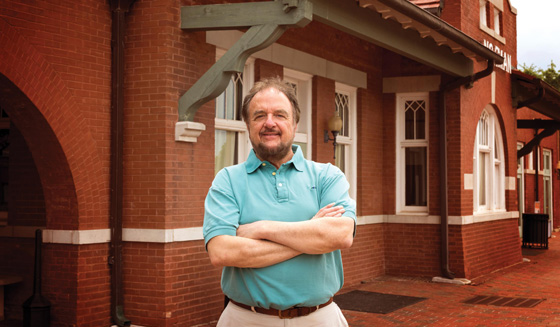 Mostly our lives evolve gradually, but sometimes the twists and turns are sharper. Wayne Buchman knows the exact object, the moment in time and the inspiration that years ago sent him in a new direction in his life.
The object was a poster, hanging on the wall at his college in 1965, his senior year. The poster was calling young people to join Catholic Extension's new program, Extension Lay Volunteers (ELVs). And the inspiration, he believes, was the Holy Spirit.
Growing up in Carlstadt, New Jersey — a small town that is a 12-minute train ride from Times Square in New York City — Buchman was the only child of a lively Italian mother and a reserved German father. In his early years, he had not ventured much outside of his state. But that poster at St. Peter's College in Jersey City caught his attention. Adventure. Travel. Service.
But it also filled him with uncertainty. "I had no idea what to expect. I didn't know how it would turn out. In the healthiest sense of the word, I had to 'surrender' to let God lead me," he said.
After an orientation at Extension's headquarters in Chicago, Buchman was assigned to work in campus ministry at St. Thomas More Chapel at the University of Oklahoma in Norman. As he arrived nervously, Father Bill Ross, the pastor, greeted him and said, "Love has brought you to Oklahoma!"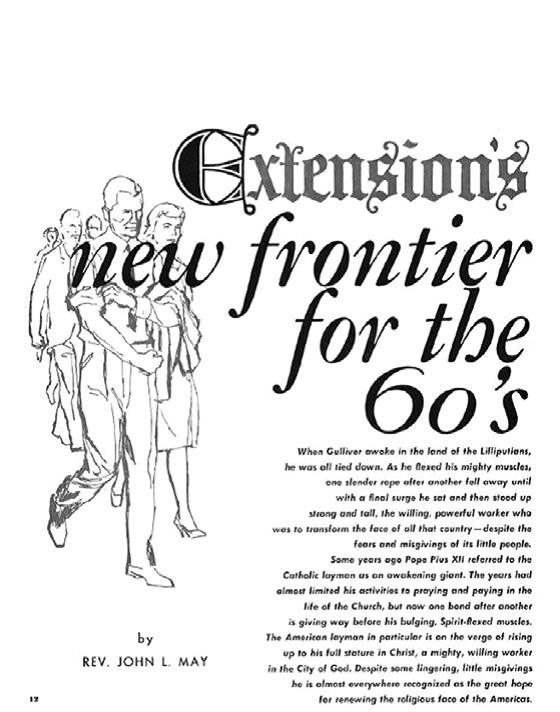 Extension magazine featured a story about the volunteers in March 1961.
The Extension Lay Volunteers initiative began in 1960 as the Catholic Church was promoting the importance of lay workers. For 11 years more than 2,000 volunteers dedicated at least one year to working in mission dioceses across America.
Buchman had many responsibilities as a campus minister. He held faith formation meetings, coordinated retreats and knocked on dorm room doors to tell students, "Mass is Sunday at 9 a.m."
"Campus ministry is an invitation to young people to become active Catholics," he said. "It's a really critical time in their lives. They need guidance and camaraderie."
It turns out that year of service was an important time in Buchman's life, too. He realized how important service was, how important his faith was and he fell in love with
Oklahoma.
He did graduate studies at the University of Oklahoma and joined the faculty of Rose State University in Midwest City, Oklahoma. After 34 years of teaching English —
a joyful, fulfilling career — he retired in 2006.
He now spends time renovating his home, reading and reflecting. "I think about my ELV experience all the time," he said. "It was such a pivotal year for me. It changed my perspective. It changed my whole life."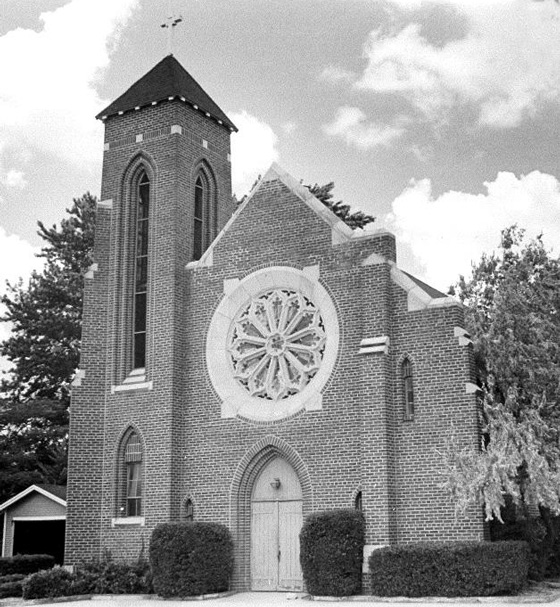 Buchman was a campus minister at St. Thomas More University Parish, shown here in the 1960s.
"We were doing something important with Catholic Extension. We were opening up opportunities for people. We were showing them new possibilities."
Buchman recently reconnected with some fellow ELVs and with Catholic Extension. He generously made a gift to Extension from his parent's estate and named Catholic Extension as a beneficiary of his estate.
"I want to make sure that the work of Catholic Extension carries on," he said. "It impacted me so greatly, it impacted the people we served and it continues to
impact people today."
"Mother Teresa said, 'We know what we're doing is only a drop in the ocean. But without that drop, the ocean would be missing something.' I couldn't agree more.
In so many small ways, Catholic Extension is changing lives. Without it, something would be missing."
The poster that Buchman saw 51 years ago was one of hundreds fastened to the hallways of St. Peter's College. But that simple invitation and his willingness to accept made a lifetime of difference.