Meet Our Donors
Coming Full Circle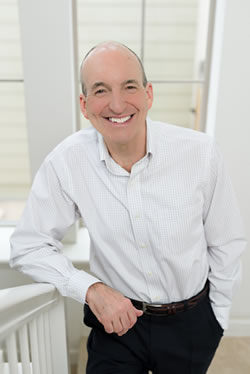 Loren Schillinger has a unique perspective on Catholic Extension. He was raised in a mission diocese, attending a church that Catholic Extension helped to fund. His professional years were spent in cities throughout the United States, finding new churches with each stop, and better grasping Extension's commitment to build strong and welcoming parishes.
Early years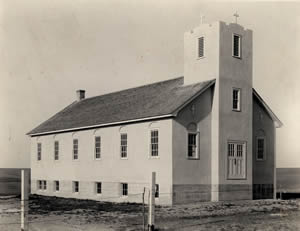 St. Ann Church in Vida, Montana was built by Schillinger's grandfather and Extension funding in 1933.
Schillinger grew up attending St. Ann Church in Vida, Montana, in the Diocese of Great Falls-Billings. He recalls his family receiving the monthly Extension magazine and picking up the Extension calendar at the back of the church. But more vividly, he remembers what a special place the church was for his family and neighbors. His grandfather, Joseph, a great grandson of a German immigrant, who homesteaded in Vida in 1913 with a wheat and barley farm, had helped to build the church with a Catholic Extension grant in 1933.
Schillinger's faith was nurtured at the church. A priest came every two weeks for Mass and on alternate weeks they attended another mission church (15 miles away) or the parish church (30 miles away). During winter the church was heated only on Sundays. While often a cold place for the early morning Mass, for the 50 to 75 parishioners who called it home, St. Ann was the center of their lives.
Finding new churches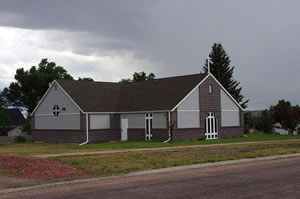 Catholic Extension helped to construct Mary Queen of Heaven Church in Chugwater, Wyoming in the Diocese of Cheyenne.
At age 18, when Schillinger left the family farm to pursue school and a career, he wanted to stay connected to his faith. Little did he know that this would mean finding several new churches, given how often he moved. With a chemical engineering degree from Montana State University in 1975 and a master of business administration degree from the University of Notre Dame in 1982, he worked in financial positions for FMC Corporation, Eli Lilly & Company and Dow AgroSciences in several places, including Pocatello, Idaho; Philadelphia; Lawrence, Kansas; Lafayette, Indiana; Roanoke, Virginia, and Indianapolis, Indiana. He retired in 2007.
In each location, Schillinger sought out Catholic communities. He experienced the Church in America across diverse urban and rural settings.
Working in a mission diocese
Finishing his first career, he headed back West to Cheyenne, Wyoming to be closer to his ailing father. He heard that the Diocese of Cheyenne needed help with its finances, so he began assisting the diocese's chief financial officer with accounting, financial planning and budgeting. There he saw the huge role Catholic Extension played in supporting the diocese.
The diocese, which covers the entire state, was founded in 1887. Catholic Extension's first grant to Cheyenne was in 1909. Over the years, Extension has granted more than $10 million (nearly $18 million in today's dollars) to the diocese, including 130 grants for building and repairing churches.
In the last five years, Extension's funding of more than $1.5 million to the diocese has supported seminarian education, campus and young adult ministries, priests' salaries, Catholic school leadership and Hispanic ministry.
As a businessman, Schillinger saw how Extension guided and empowered the diocese. "The Diocese of Cheyenne would really struggle without Catholic Extension," he said.
With Extension assistance, Schillinger attended fiscal management conferences for networking and training. In 2010 he became chief financial officer for Cheyenne, a position he held until his second retirement in 2015.
Looking ahead
Schillinger moved to Denver and now attends Cure d'Ars Church, a multi-ethnic, inner-city parish, where he is on the finance council.
He recently put together an estate plan and chose three beneficiaries, including Catholic Extension. "For years, I have seen the vital work of Catholic Extension," he said. "Little parishes wouldn't exist without Extension's help. Allowing them to have Mass, even once a month, is so important."
He's still grateful for St. Ann Church during his childhood. "Back then, I didn't understand everything that Catholic Extension did, but I felt its impact every time I went to Mass," he said. "Now I understand the scope of what it does. It helps in so many places."